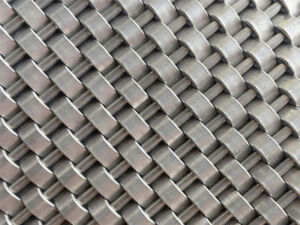 About Architectural Mesh
(1) What are the formats in which Architectural Meshes can be delivered?
We supply our architectural mesh depending on your preference as rolls or cut-to-size pieces, but mostly as ready-to install mesh elements including mounting devices in the specified dimensions.
While the maximum width of each mesh element is limited due to manufacturing process, the length limits are contingent on handling and technical considerations.
In most cases a facade of e.g. 20-25 m is covered continuously in height. Even longer elements can be executed subject to detailed technical inspection.
(2) How do you transport wire mesh elements?
In consultation with the customer, our wire mesh elements are packaged carefully for transportation. Depending on the size of the individual mesh elements the transportation is carried out in rolled form or in flat elements.
After coordination with the customer, the desired assembly sequence is coordinated within the packaging units. To protect the wire cloth elements the mounting devices are packaged separately.
(3) Why is no price list available?
The dimensions as well as the required degree of finishing for the project, affect the price per square meter significantly. Therefore it is wise to consider these factors in the early planning stages of your project.
Based on the needs of your project we will work out a tailor-made budgetary quote.
(4) Is Architectural Mesh Fire Resistant?
Architectural wire mesh made of stainless steel is non-flammable.
(5) Is any maintenance work required after the installation of architectural mesh elements?
Once installed, our architectural meshes require no maintenance due to the developed fixing solutions for maintaining the tension of the mesh. Depending on the environmental conditions, cleaning the mesh might sometimes be necessary to improve the visual appearance of the mesh as well as to maintain the natural corrosion resistance.
(6) What are the expected delivery times?
For a majority of orders, our mesh is produced individually for each project. This leads to an average delivery time of approximately 2 – 12 weeks after order. This follows a timely clarification of all technical details.
For large projects the production of large quantities may result in longer delivery times. In case of smaller requirements the delivery time can be reduced, if the required material is already available. We try to keep our standard meshes in certain quantities of stock to be able to respond to your needs even at short notice.
Please contact us so that we can check the delivery time for your project individually.
(7) Why Choose Decorative Wire Mesh for Architecture?
As an extremely versatile material, decorative mesh is ever-growing in popularity for use within a number of applications. Not only flexible, customizable, durable and sustainable, decorative wire mesh is also available in thousands of patterns, the perfect medium to satisfy any project, no matter the function or aesthetic. With over 100 years of experience in wire mesh manufacturing, Banker Wire has the knowledge and product selection to achieve any budget or visual goal. From parking garages to millwork and cladding, from space dividers and displays to fences and enclosures, wire mesh's multifaceted nature establishes it as a favored material for any project, whether functional, detail-oriented, aesthetic, creative, commercial or ornamental.
About Mounting Solutions
(1) Why is it necessary to tension the mesh elements?
In general small samples look very robust and stable however, this is not always the case with larger elements. Tensioning can be done by applying the elements to a framework or by using our proven mounting solutions.
If the required amount of tension is not applied, the mesh may appear wavy. Furthermore it is expected that there is more movement at the mesh, e.g. induced by wind.
(2) Which substructure is required for a facade design with architectural wire mesh?
Architectural mesh can be continuously tensioned vertically over several floors. This requires a solid substructure on the upper and lower front which has to withstand the resulting loads. In addition, intermediate connections are required for long mesh panels that can be attached to each floor level.
(3) Why are intermediate mountings required?
Intermediate mountings are required for mesh elements, which are tensioned vertically covering several floors to intercept horizontal loads which can be caused by wind, for example.
The maximum resulting loads on the substructure as well as the possible deflection of the mesh are reduced by intermediate fixings. Usually, an intermediate mounting is recommended at the height of a floor slab (about 3 – 4 m).
(4) What loads does a substructure have to resist resulting from tensioned wire mesh?
Wire mesh elements are installed with a defined pretension induced during the assembly. Due to wind loads as well as other possible factors, the maximum resulting loads may be significantly higher. These loads have to be determined for each project individually depending on the project's requirements.
(5) How is the distance between the attachment points defined?
Tensioned mesh elements are installed by using our proven mounting technology with a defined pretension. The distance between the attachment points should not be too large (preferably not more than 350 to 400 mm) to achieve a tension as uniform as possible.
In order to apply a corresponding tension to the edges, the first and last point of attachment should be within approximately 50-100 mm from the edges. The exact position of the attachment points has to be coordinated in dependence on the mesh selection and geometry.
Please contact us so that we can coordinate the detailed planning.
(6) How much space should be between vertically tensioned wire mesh elements?
Due to the maximum width of the various mesh types, a cladded surface is usually divided into several vertically tensioned elements. To avoid contact with neighbored elements and to prevent resulting damages to the mesh, there should be some space between the elements.
We recommend a gap of about 20 mm as in most cases this can visually absorb variations resulting from tolerances of the substructure.
If the selected architectural mesh has a certain vertical structure, we can try to continue the vertical structure over the gap.
(7) What is the time for assembling canvas panels for architecture?
The required time for assembly depends considerably on the circumstances of each project. We will be pleased to assist you with further details on the possible sequence and required effort for the installation.
About Cleaning of Architectural mesh
Initial Cleaning
In common with many other building materials, stainless steel arrives on site with its surface in the finished condition. If the surface has been exposed to construction dirt and dust an initial cleaning may be required. A TYPICAL PROCEDURE:
1. Rinse with water to remove loose dirt.
2. Wash with water containing soap, detergent or 5% ammonia, using a soft, long fiber brush if necessary. The cleaner utilized should be a multi-purpose cleaner that neutralizes and removes salts. An environmentally safe cleaner is suggested to remove oils and dirt from the metal fabric.
3. Rinse with deionized water.
4. Allow to dry.
Routine Cleaning
The quality of the environment and the aesthetic standard required will obviously influence the frequency of routine cleaning. For outside locations, rain can wash a well-designed building cloaked in woven metallic fabric quite effectively, but it may be desired to supplement this natural process by routinely washing the stainless steel once or twice a year. For instance, a stainless steel mesh facade may be washed at the same time as the glass curtainwall behind it. However, where severe environmental situations exist, such as coastal regions, areas of high humidity or severe pollution, washing once or twice a year may be desired if a high aesthetic standard is required. The cleaning procedure used for initial cleaning can be adapted, with a multi-purpose cleaner that neutralizes and removes salts. In some locations heavier soiling may occur, such as splashing in winter from adjacent road surfaces. In such cases the following procedure is usually adequate: Pressure jet cleaning with hot water in the spring to remove material adhering to the surface, followed by rubbing with a mild-abrasive cleaner for stainless steel (if necessary). Then, a water rinse followed by drying. Again, the cleaner should be safe for stainless steel and should remove and neutralize salts. Normal domestic cleaners that contain harsh abrasives or chlorine compounds should be avoided.
Note on pre-installation preparation of glass surfaces: In many cases, metal fabric panels are installed over glass curtainwalls and in close proximity. It is advised that prior to installing mesh, all glass surfaces be thoroughly cleaned, rinsed and treated with a hydrophobic surfactant. This will help resist accumulation of dirt and dust and will facilitate cleaning / rinsing of the glass surface after installation of mesh.
Note on deionized water: In rinsing metal fabrics, we are suggesting the use deionized water as a means to eliminate or minimize any spotting, staining or scaling caused by deposits from impure water. Such use will help enhance the natural beauty of stainless steel metal fabric.
Vandalism, Accidents And Remedial Cleaning
Graffiti from marker pens, spray or brush paint is a major pro-blem in some areas. However, our metal fabrics provide little satisfaction for graffiti sprayers. The corrosion resistance of stain-less steel can be used to advantage, allowing most solvents and chemical paint removers to be used. Caution should be exercised and obviously the surface and any joints should be well washed with water after using any chemicals. Removing paint by scraping should not be attempted, as this will damage the surface. A suit-able non-metallic abrasive pad may be used in combination with a paint remover, but care should be taken to avoid "polishing" the surface. Never use pads that have been used on carbon steel or the surface of the stainless steel will become contaminated with carbon steel particles, leading to rust staining. Steel wool must not be used on stainless steel for the same reason.
Vandalism By Scratching with a knife or similar implement is also encountered. Some removal can be achieved by rubbing suitable abrasive cloths and Scotchbrite pads in the direction of the grain. Absolute removal is impossible, but the harder surface produced by the embossing plus the irregular surface tends to minimize the visual impact of the attack.
Splashing With Cement or mortar is perhaps the most com-mon-accidental damage encountered at a building site. Removal with water before hardening is essential. If this is not done, pro-prietary cleaners used to remove mortar from tiles must not be used, as they normally contain strong chemicals that would etch the stainless steel. A combination of power washing and cauti-ous mechanical methods may be used to remove the bulk of the splash, followed by a mild abrasive cleaning compound designed for stainless steel, and is a multi-purpose cleaner that neutralizes and removes salts.
Contamination By Carbon Steel may also occur accidentally on site. The outcome is that the carbon steel rusts, producing brown stains. Extensive carbon steel contamination is difficult to rectify on site. However, most accidents produce localized rust stains which may be removed using proprietary gels, or a 10% phosphoric acid solution, followed by rinsing with an ammonia solution and then cold water or by wetting the stain with an oxalic acid solution for up to 15 minutes, followed by a cold water rinse and drying.
Oil And Grease require careful removal to avoid leaving a thin film on the surface that would produce colored rings. The majority of the oil or grease should be removed with a solvent such as acetone, benzene, or alcohol, applied with a sponge or cloth. This could then be followed by washing with a detergent solution, rinsing with water and allowing to dry.
Contamination By Finger marking in high traffic, highly polished areas may require regular cleaning to maintain a satisfactory aesthetic standard. The suppression of finger marking may be achieved by rubbing the surface with "baby oil" or spray-ing with aerosol oil.
Although regular cleaning is the best way to retain the appea-rance of stainless steel, it is still possible to restore the surface if it has been neglected.
A Typical Remedial Treatment Could Be:
WASH: loose dirt from the surface with water containing de-tergent.
RUB the surface with a paste containing 200 mesh calcium car-bonate or a suitable, proprietary mild abrasive cleaning paste. WIPE off the moist paste.
Rinse With Clean Deionized Water.
COMMERCIAL CLEANING COMPANIES also offer other very effective methods using complex, proprietary mixtures of surfactants and other chemicals. A suggested cleaner would be one that is a multipurpose cleaner designed for neutralization and removal of salts. Environmentally safe degreasers / cleaners are also suggested as they will emulsify and remove grease or dirt from the mesh. After cleaning, rinse panels with deionized water to remove the cleaner.
Summary
Maintenance and cleaning aspects must be considered early in the design of any architectural project. Where aesthetic standards are important, it is fortunate that the type of stainless steels used in architecture, buildings and construction are exactly the same as used by the chemical industry to resist corrosion in many parts of their production plants. A wide range of effecti-ve cleaning reagents can therefore be used, making restoration of surface appearance relatively easy – if the correct procedure is adopted.