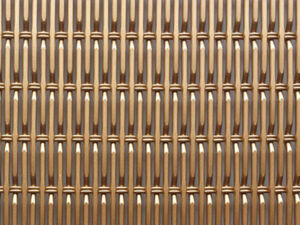 Market Positioning of SHUOLONG Architectural MeshSHUOLONG is a professional manufacture for architectural woven mesh, and have been provide architectural woven mesh for Dubai airport, Singapore airport, etc. We are the partner of Chinese biggest decorative project company – Gold Mantis, have plenty experience in many big China projects.
In the world, there are main architectural mesh BRAND, GKD and Haver & Bocker from Germany and Cambridge architectural woven fabric and banker wire from USA. We can produce most of the same types of architectural mesh. What's more, we can produce coil fabric mesh like Cascade coil from USA. Same types architectural woven mesh could be competed with these world brands. Our price quotation is just approx 20-40% of above brands.
We would like to provide free samples to push your projects, interact on designing work at the beginning of each project, of course we also could like provide our mesh pictures for you to do the market or website.
As the benefits of working with metal mesh became apparent, so did the ease and simplicity of working with a full-service manufacturer and provider. When you work with SHUOLONG Architectural Mesh, our knowledgeable team walks you through the design process, step-by-step, bringing the architect's concept into reality. From the grand design to the smallest detail, SHUOLONG ensures assistance every step of the way.
Specializing in both interior and exterior applications, SHUOLONG Architectural Mesh is truly open to your ideas. The possibilities for design and function are boundless, limited only by the stretch of the imagination.
Quality Assurance and Control
Quality, health & safety at work, environmental protection and careful use of resources are key aspects in our understanding of a holistic SHUOLONG standard. From the careful selection and testing of raw materials and other materials, through the product manufacturing process, to packaging and logistics, we continually drive forward new environmentally friendly developments and ideas.
The use of the latest technology and equipment for quality control guarantees the high and constant quality of our woven wire products.
From the receipt of our raw materials, through the production processes and prior to delivery there are many material and quality controls: Material inspections, corrosion tests, damage checks, inspection for the certification and calibration of test sieves according to the relevant national and international standards and many more.
Tests and inspections are performed using modern equipment, such as global testing devices, video-microscopes, measuring of air flow rate, pore size meter and corrosion check instruments.
Environmental Management
This environmental management is part of our corporate responsibility. The latest technologies and alternative solutions help us continuously reduce our energy consumption. Thanks to well-thought-out heat recovery systems we can, for example, reduce consumption of valuable natural resources.
As a mid-size family-owned company with 25 years of tradition behind it, SHUOLONG Wire mesh has developed a corporate structure that is practiced and lived by. From the very beginning, the relationship between the employees and environment was characterised by responsibility.
The management and employees of SHUOLONG Wire Mesh are committed to designing processes and products that take the environment into account and assure continuous improvement. We are committed to complying with the applicable environmental laws and regulations, as well as the requirements from officials. These to us are the minimal requirements. The effectiveness and appropriateness of our environmental policy and our environmental management system are verified on a regular basis and documented. SHUOLONG Wire Mesh is committed to its environmental policy and requests its business partners to approach the environment in the same way so that future generations may have a healthy environment to live in.