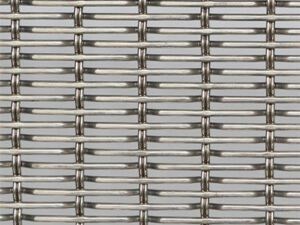 1. The History of Architectural & Decorative Wire Mesh
The Bauhaus school inspired a purism that made white the ubiquitous color in architecture. Here it was highly common to work with white surfaces; if any additional color was needed, only grey would be considered. However, modern architecture is an altogether more colorful affair – in order to portray functionalities, represent dynamic change and innovation or forge a connection to nature and the environment. Color does not have to be bright; rather, the emphasis lies on bringing together color and form and combining them to form a unit. In modern architecture, color has become a material – signalling the end of a colorless era.
Metallic mesh was discovered as a colorful and functional design element in architecture around twenty years ago. The project of the Bibliothèque Nationale de France in Paris in the 1990s was the first of its kind. Dominique Perrault developed deployment options for metallic meshes in the architecture and design fields. Since then, architectural meshes to a wider range of applications worldwide.
2. Features of Architectural &Decorative Wire mesh
(1) Fireproof
Shuolong manufactures high-quality woven metal fabrics, primarily of AISI Type 316 stainless steel. Stainless steel material with heat, high temperature characteristics, better than aluminum, glass and so on.
(2) Resistance to Corrosion
We use austenitic stainless steel, most commonly AISI Type 316. Because stainless steel is noncorrosive, no protective coatings or paints should be used. Their use will detract from the natural qualities of the product and will provide no benefit.
(3) Durability
Our metal fabrics are fire, heat and impact resistant, and are suit able for all climates. Stainless steel is a highly durable mate-rial. It is a permanent choice in an increasingly disposable world, reducing demand on our natural resources and providing long-term value.
(4) Environmentally Friendly
Stainless steel woven metal fabrics are meant to last many, many years. But at the end of the useful life, these metal fabrics are completely recyclable. In fact, virtually all stainless steel is recycled.
(5) Easy to Clean
Each order is delivered clean and free of oils. Rinse with water or deionized water to remove loose dirt.
3. Applications for Architectural & Decorative Wire Mesh
(1) Facade
Architectural mesh as a semi-transparent outer skin with excellent technical properties combines outstanding design with a high functional benefit.
(2) Ceiling
SHUOLONG Architectural Mesh offers an array of exciting design-oriented solutions for creative ceiling projects, with individual aesthetic features and reliable functionality.
(3) Wall
Versatility, stability and exclusive optical properties make architectural mesh the ideal material for designing interior walls.
(4) Sun Protection
Transparent wire mesh elements filter sunray and provide a comfortably fresh and at the same time light indoor climate. Accordingly architectural mesh can improve the energy balance of your building.
(5) Canopies
Stainless steel mesh canopies are designed to ensure maximum sun blockage while allowing air to pass through.
SHUOLONG creates architectural mesh canopies to meet various design needs.
(6) Elevators
SHUOLONG has partnered with premier elevator manufacturers to create interior wall cladding that is beautiful, durable and virtually maintenance free. Our rigid mesh patterns offer longevity in high traffic areas that are prone to denting, scratching or marring, giving you a lifetime of guaranteed allure and refined style.
(7) Curtains
Cambridge mesh curtain systems are ideal for space divider applications where transparency and elegant appearance is a high priority.
Cambridge mesh curtain systems can be specified in different mesh patterns, configured in various widths and heights, and customized to fit specific project needs.
(8) Parking Structures
The aesthetic appeal of today's parking structures is as critical as the utility they provide. The must be elegant, thematic, and attract business. Contemporary mixed-use facilities feature artfully integrated parking facilities with design elements that become thematic to the overall facility.
Architectural mesh's highly textured and glimmering surfaces intrigue and invite drivers to park within its confines. Meanwhile, the system performs a myriad of important tasks, such as fall protection, shading, ventilation and headlight attenuation.
(9) Handrail Infills
Give your handrails an incomparable aesthetic using SHUOLONG Architectural infill panels. With a wide variety of patterns and designs, architectural mesh is a unique material that can give a modern and distinctive look to a commonplace application.
(10) Building Redevelopment
Architectural mesh is suitable for the renovation, expansion or modernization of existing buildings. Lend your existing building new brilliance with high functionality.
Others
1. Balustrade
Architectural wire mesh made of stainless steel offers a secure solution for your balustrades and guardrails.
2. Free Configuration
Our functional architectural mesh made of stainless steel can be used in many ways. We realize your ideas.
3. Illumination
Take advantage of the unique reflection properties of wire mesh facades and transform your facades at night into a special highlight with an individual illumination.
4. Acoustic
Architectural wire mesh can be used as wall or ceiling cladding for optimizing room acoustics.
5. Coloring
There are numerous options available for individual coloring of architectural wire mesh.
6. Corporate Identity/Signage
Woven stainless steel fabric systems are utilized to create panels that support a company's signage. Custom metal fabric patterns featuring corporate colors or other exotic metals are also available.
SHUOLONG Architectural offers corporate branding elements that deliver quick visual clues to brand identity which is crucial in this age in which consumers are overindulged with choice.
7. Exterior Shades
SHUOLONG exterior shading systems save energy and and serve important function in daylighting. Metal mesh shades sunlight, reducing heat load, cooling requirements and ultimately energy consumption.
8. Interior Design
With SHUOLONG's variety of flexible and rigid architectural mesh patterns and attachment hardware, there are endless possibilities for interior design applications. From wall cladding to space sculpting to ceilings and unique artistic touches, Cambridge provides a material worthy of the highest-profile interiors.
9. Interior Shades
SHUOLONG architectural mesh interior shading applications reduce glare in various percentages, depending on the mesh pattern chosen, into the regularly occupied areas of a building as a contribution to daylighting and views credits. Interior shading applications also often double as window treatments or other unique forms of interior design.
10. Missile Impact Protection
SHUOLONG tensioned architectural mesh systems are virtually indestructible.
11. Open Structures
SHUOLONG architectural mesh is a durable and semi-transparent material that is often chosen for open structure applications. Its ability to withstand extreme environments and hurricane-force winds, along with its versatile aesthetic and reliability in terms of safety, makes it ideal for open structures.
12. Retrofit/Renovation
The versatility of SHUOLONG architectural mesh makes it a unique and effective solution for retrofit and renovation applications. Metal fabric systems offer a clean, modern look with added functionality. Additionally, Cambridge's systems are custom-engineered, allowing them to conform to any structure that already exists.
13. Security Screens
Mesh allows a new approach to architectural security systems, an approach that permits a lighter look, for a more aesthetically pleasing and inviting structure. Where once heavy steel bars were specified for window protection, an attractive and bright architectural mesh system now provides a certified personnel entry barrier.
14. Stair Towers
Architectural mesh provides security, fall protection, ventilation, space dividing and a unique aesthetic for stair towers. SHUOLONG metal fabric is a well-established and effective solution for this type of application.